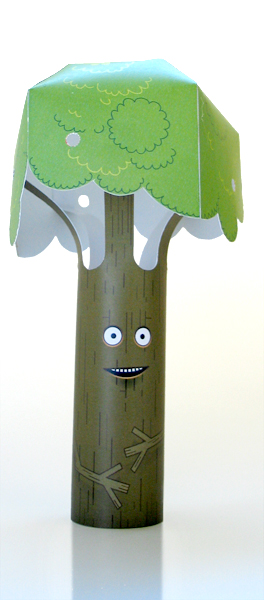 In a roundabout way to make karmatical sense, creating a paper tree would be an interesting philosophical way to go. And honestly, we believe it does.
When Pirooz Kalayez from SanghaFilms asked us to help him raise money to fund his next indie movie, based on the contemporary novella 'Shoplifting from American Apparel', it would be our way to gain some karma-kudos. The stars aligned quite right too: we LOVE cinema, the celebrated source-material by Tao Lin for the film shows us the life as it actually happens right NOW and around us (it's very much about internet) and the whole project is small and independent, just like we are ourselves. Based on the tree-character for the movie, designed by comic artist Jeffrey Brown, we designed the easy-to-build paperkit to make up a bit for all the paper we've used the past years.
So, this paperkit is still for free, we only ask of you to investigate this movie-project (FB, Twitter) and if you like the whole idea to help Pirooz and his crew to actually make it happen. If you donate only $20 (or more!) you become a shoplifting Swami (which is a big deal!), feel established as a movie co-producer and get the paperkit, a schmancy unique T-shirt, the movie poster, the soundtrack of the movie AND 'thank you'-credits IN the movie.  Wow, all this for about the same amount as parking your car for 4 hours here in Amsterdam.
Let's do this! and show the world internet does make dreams come true. Maybe, if they get enough money, they might even have a little cameo for Brad Pitt, or Megan Fox! I surely hope so  

Update: since the movie has been funded everyone is now able to build trees. Thanks to Sangha Films: click!